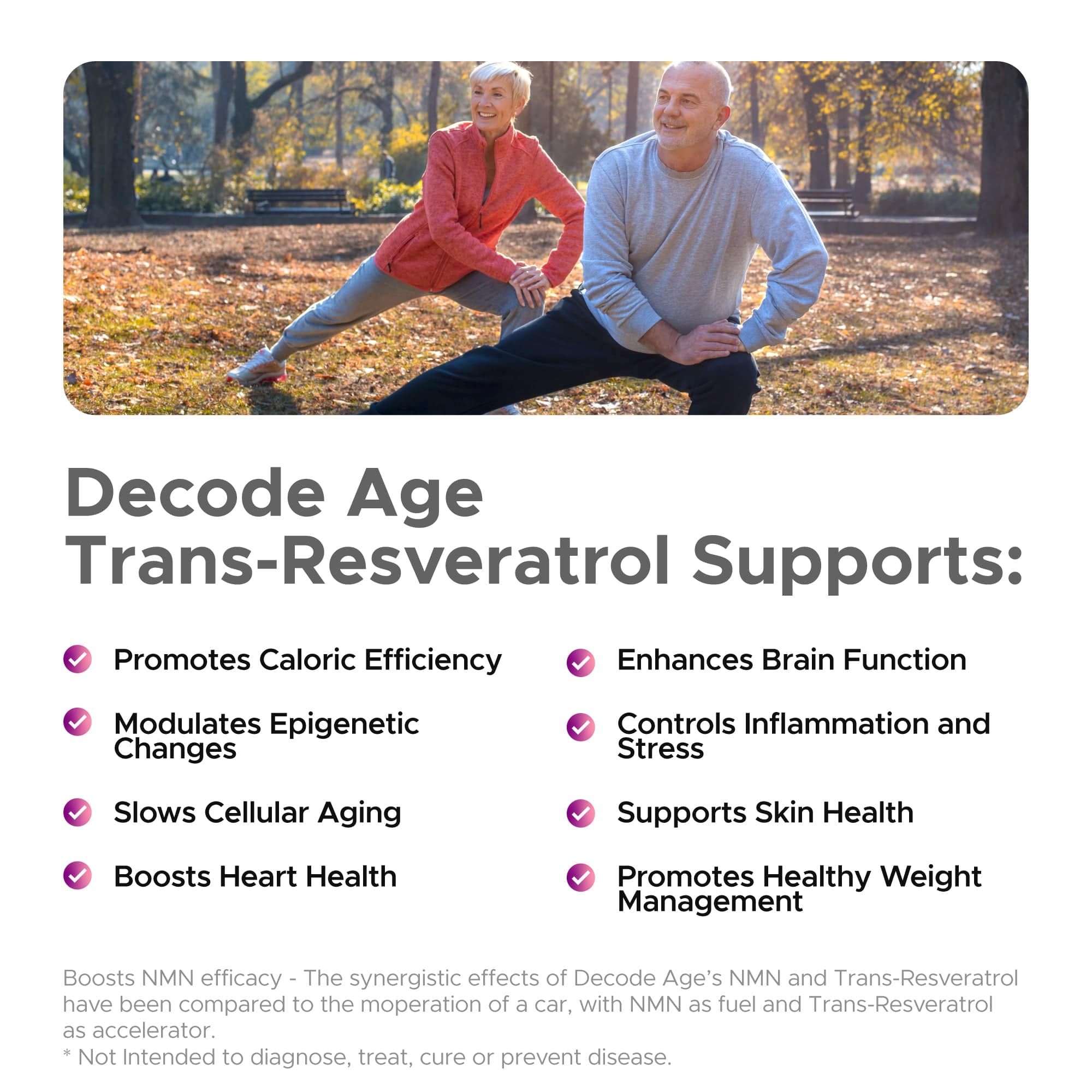 99.5% Pure Trans Resveratrol Supplement with Enhanced Absorption 500mg (60 Veg Capsules)
Personalize Your Healthy Ageing Regimine - Click Here
Trans-Resveratrol is the more active form of Resveratrol, better known for its antioxidant potential. Resveratrol supplement helps counter multiple age-related problems like inflammation, protects against obesity, and improves your heart health. It also activates Sirtuins, a family of proteins that accelerate your body's natural repair processes.
✔ Promotes Caloric Efficiency
✔ Modulates Epigenetic Changes
✔ Slows Cellular Aging
✔ Boosts Heart Health
✔ Enhances Brain Function
✔ Controls Inflammation and Stress
✔ Supports Skin Health
✔ Promotes Healthy Weight Management
EXTRA PERKS WHEN YOU SUBSCRIBE
✔ Discounts up to 40%.
✔ First access to new products and promotions.
✔ Priority customer service.
✔ Guaranteed availability, never run out of your essential health products.
Know more
What is the optimal Dosage of Trans Resveratrol for you?

✔ Adults can take 250mg - 1500mg of Trans Resveratrol daily.

✔ Start with a low dose and adjust as needed, always listening to your body's response.
Product specification
Decode Age Trans Resveratrol. Our supplement is enriched with the highest-quality Japanese Knotweed Extract, celebrated for its abundant concentration of natural trans-resveratrol. With 99%+ purity, unmatched potency, and the promise of overall wellness and rejuvenation, Decode Age stands as the superior choice for your health journey.
When to Consume
✔ For best results, if paired with NMN, take it in the morning.
✔ If only using trans-resveratrol, an evening dose after dinner is ideal.
Serving
Serving Size: 1 Capsules
Servings Per Container: 60
Key Ingredients
✔ Trans Resveratrol (Japanese Knotweed Extract)
✔ 500mg per Capsule
Warnings
When it comes to using Resveratrol Supplements, there are a few instances where restrictions may apply. These include pregnancy, breastfeeding, or if you have a bleeding disorder. However, for the majority of individuals, resveratrol is safe to use and no major side effects have been reported.
Benefits
Promotes Caloric Efficiency
Trans-resveratrol can mimic the beneficial effects of calorie restriction (CR), supporting metabolic health and longevity without the need for extreme dieting.
Modulates Epigenetic Changes
Decode Age's Trans-Resveratrol helps regulate epigenetic modifications, potentially influencing gene expression for improved health outcomes.
Slows Cellular Aging
Our formula may delay cellular senescence or natural cell aging, thereby promoting youthful vitality and longevity.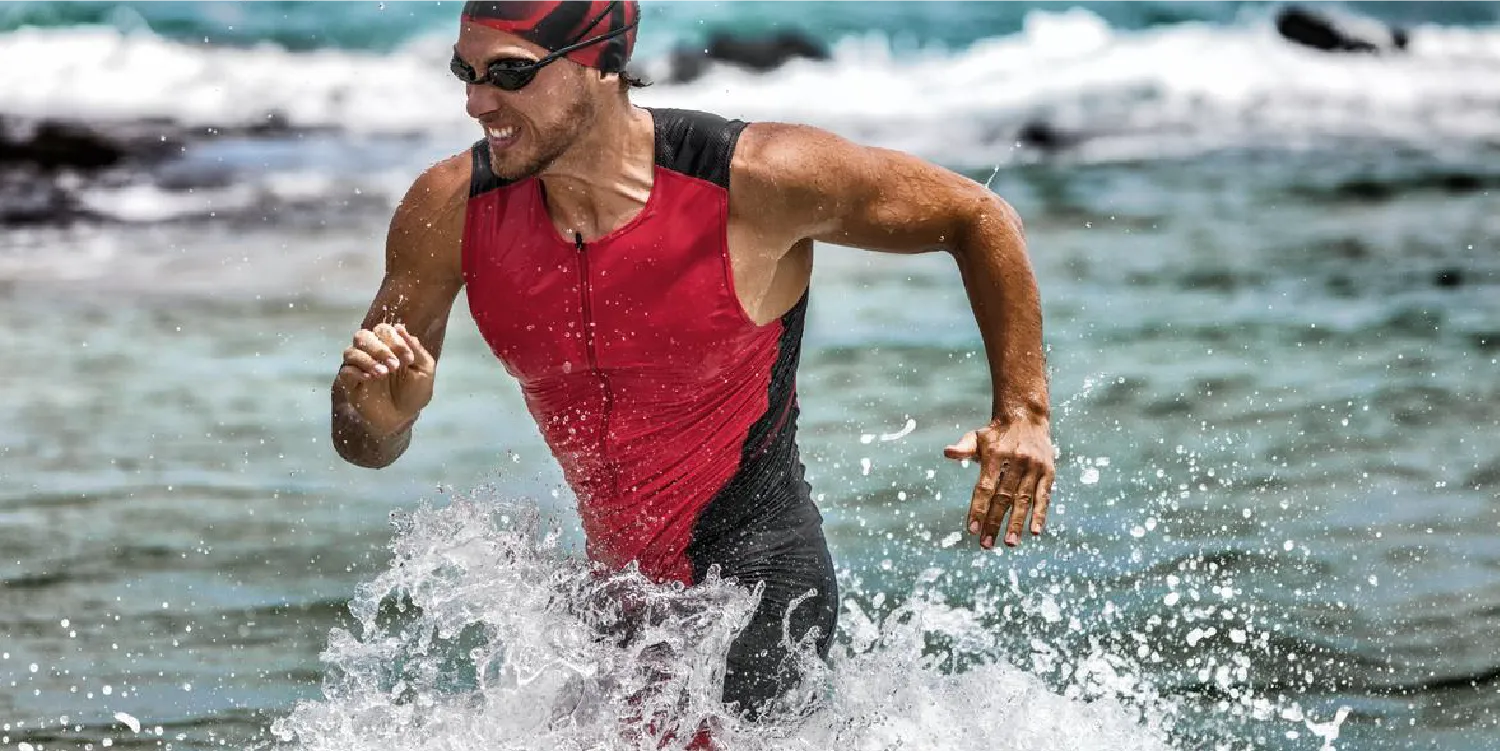 Boosts Heart Health
Trans-resveratrol is known for enhancing cardiovascular function, maintaining a healthy heart and supporting overall wellbeing.
Enhances Brain Function
By regulating neurological function, Decode Age's Trans-Resveratrol supports cognitive health, encouraging better memory, focus, and mental agility.
Controls Inflammation and Stress
This potent formula helps regulate the body's inflammatory and stress responses, offering potential relief from discomfort and promoting a balanced, healthier state of being.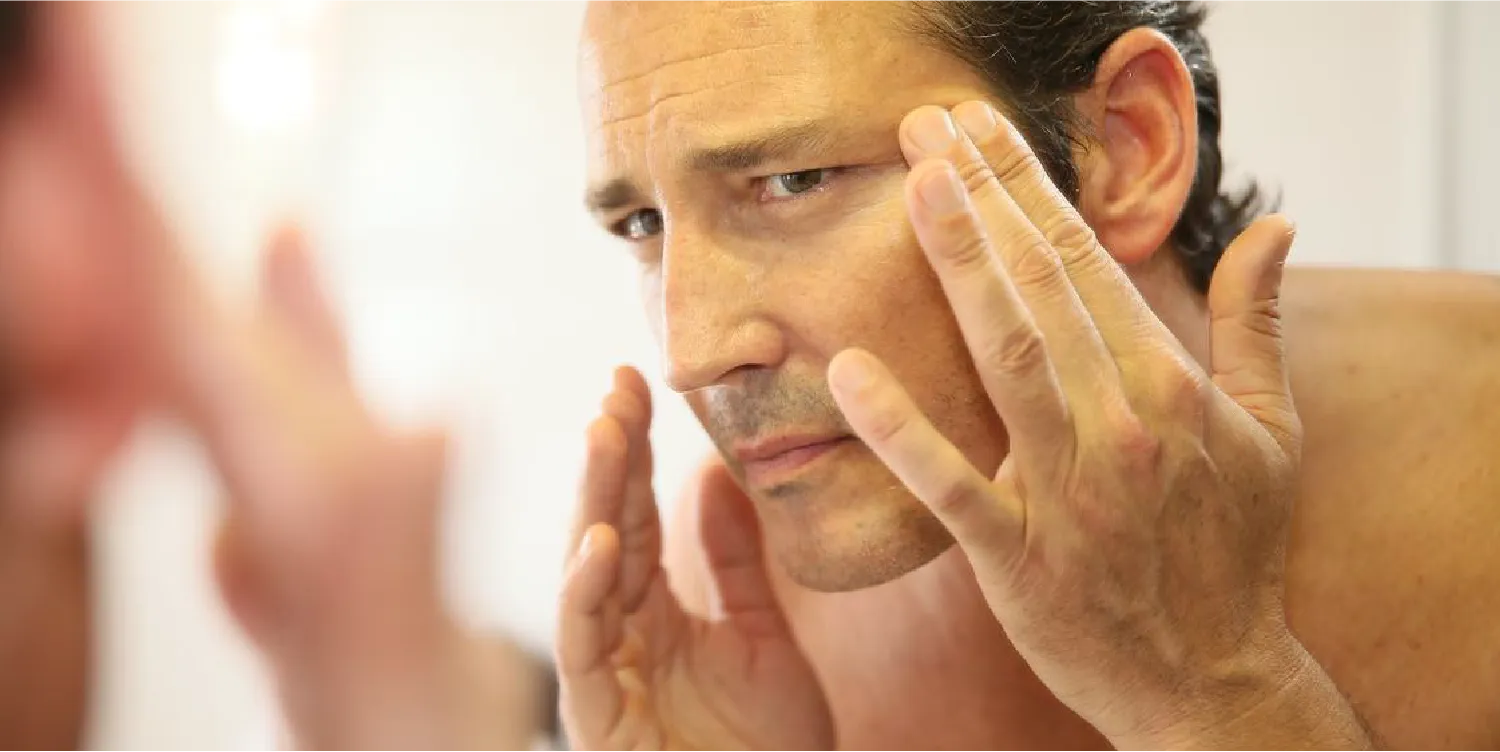 Supports Skin Health
Trans-resveratrol's potent antioxidant properties can benefit your skin, fighting aging signs and promoting a youthful, radiant complexion.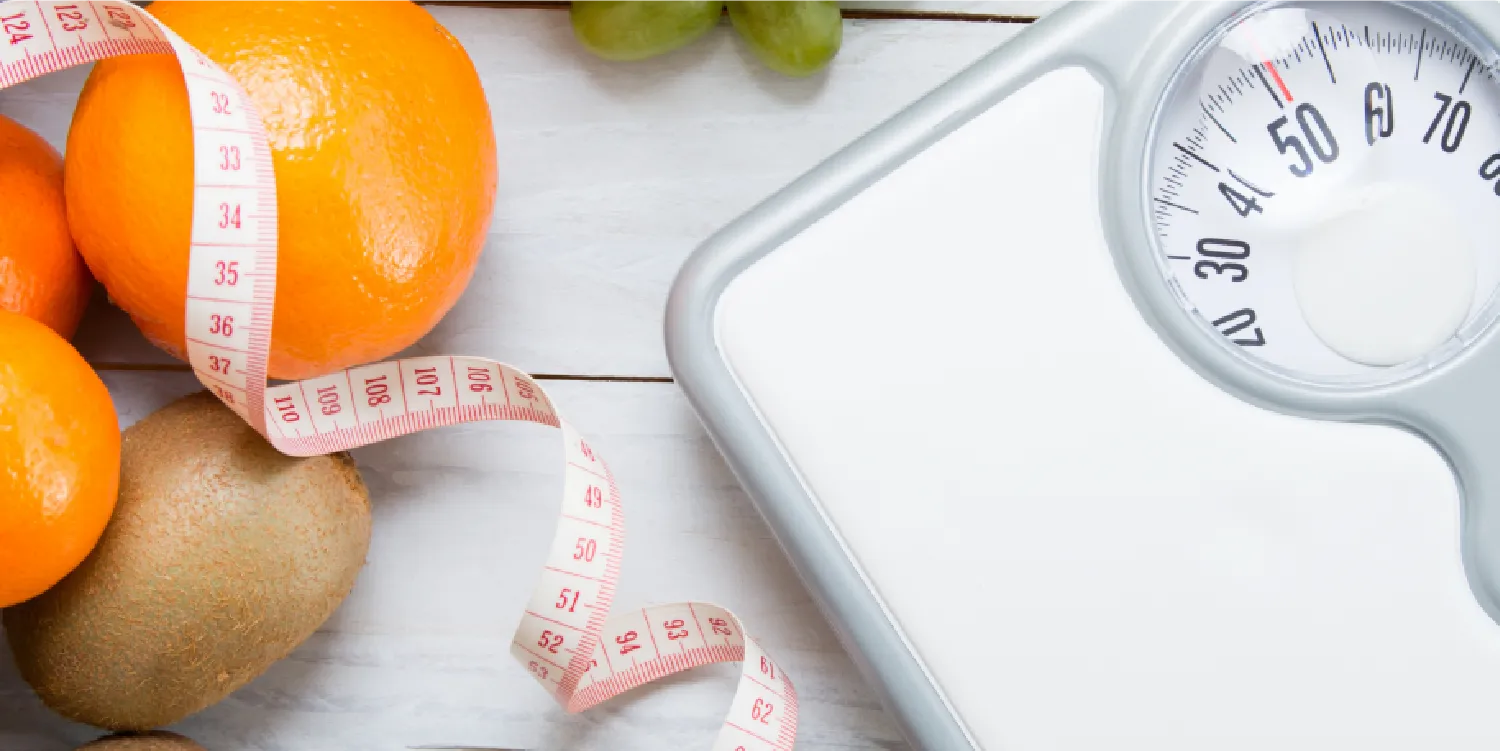 Healthy Weight Management
By improving metabolic efficiency, Decode Age's Trans-Resveratrol can assist in maintaining a healthy weight, providing an added benefit for those seeking a balanced and sustainable lifestyle.
Introducing Decode Age Trans Resveratrol, boasting 99%+ purity, enhanced stability, and rigorous quality control. This potent and efficacious supplement surpasses ordinary trans-resveratrol offerings, delivering superior cellular rejuvenation and longevity benefits. Choose Decode Age Trans Resveratrol, the intelligent choice for a healthier, more vibrant life.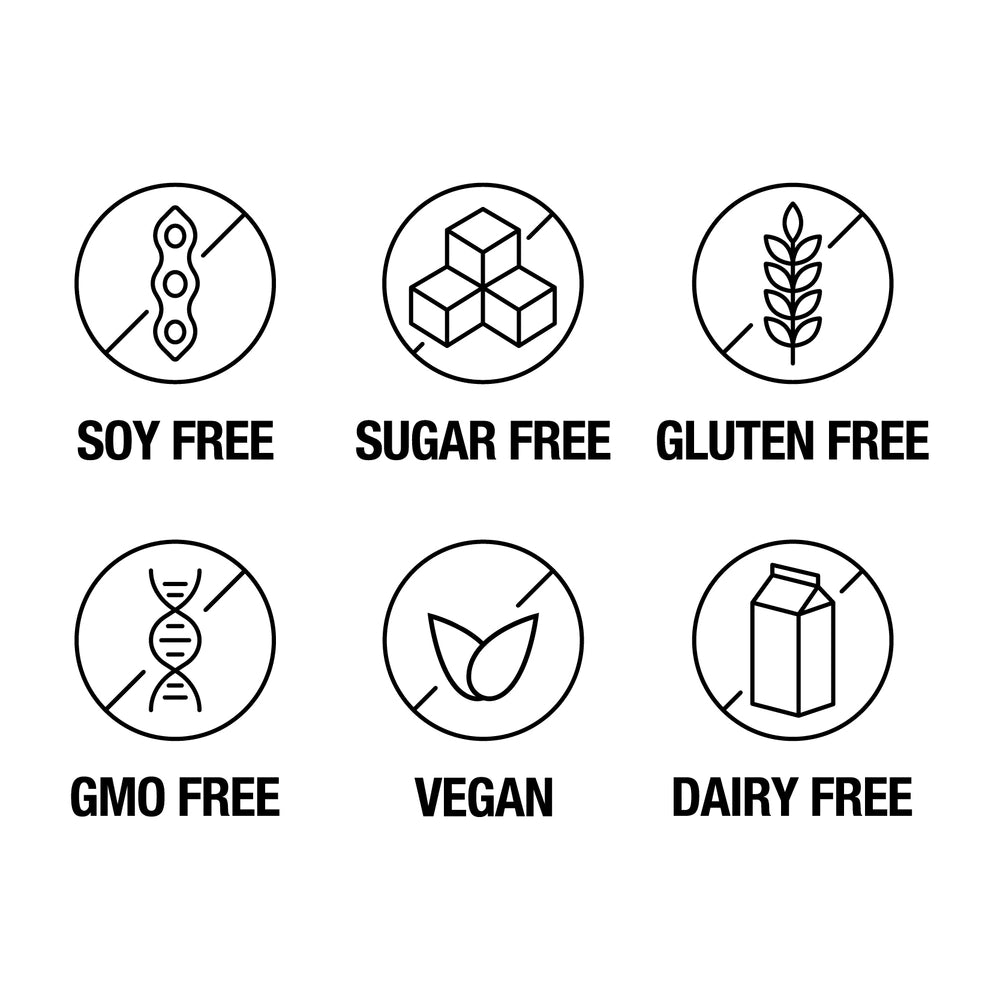 Know your journey with Trans Resveratrol and NMN Supplement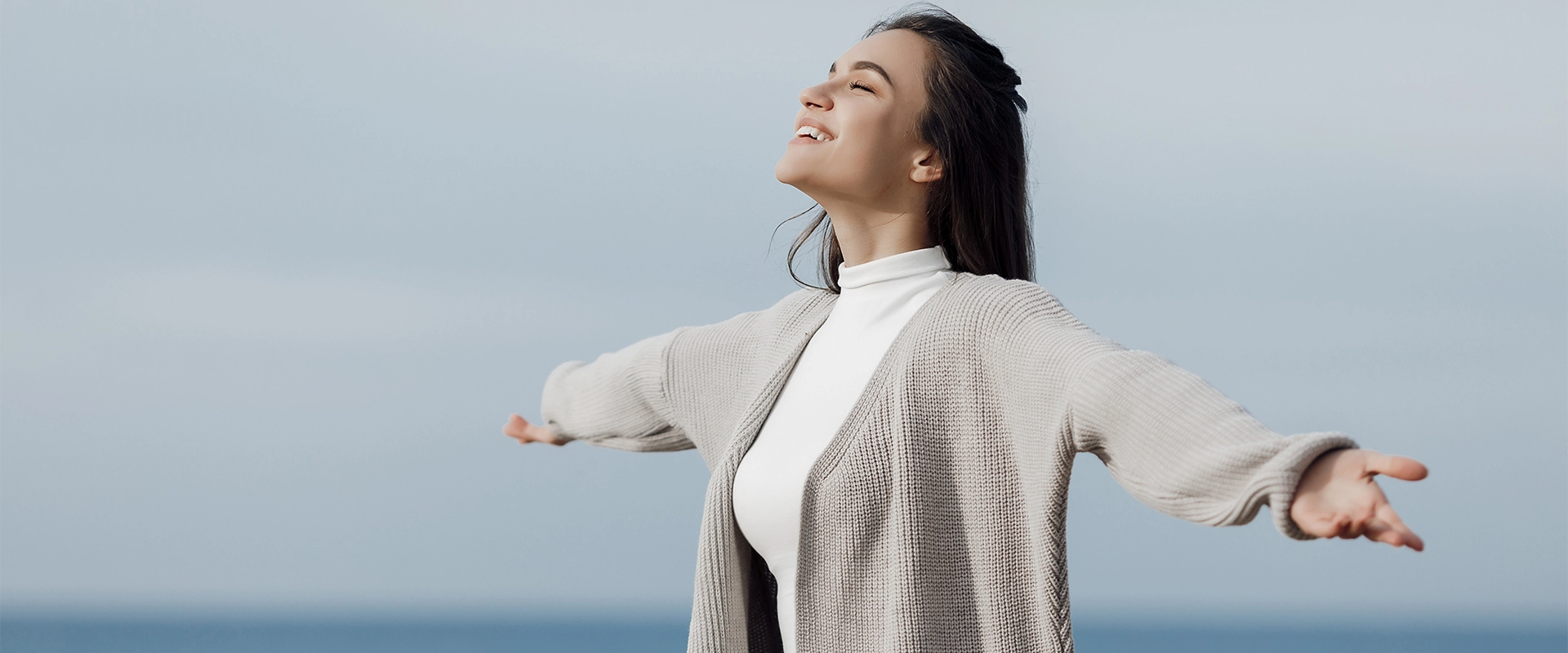 Consider Trans-Resveratrol as the starter key to your body's wellness vehicle. Within the initial two weeks, you'll experience its powerful antioxidative effects at work, combating cellular oxidative stress - a scientific validation of its role in promoting vitality and sharpening cognitive functions. This is like kick-starting your day with a perfectly brewed cup of coffee, but without any subsequent crash.

As you approach a month, Trans-Resveratrol becomes an integral part of your daily wellness regime. Consistently aiding in maintaining high energy levels, it clears out the haze of mental fog and supports skin health - akin to the refreshing after-effects of a long, restful slumber, all credited to its potential anti-inflammatory and anti-aging benefits.
When paired with NMN, think of it as adding a turbocharger to your wellness vehicle. NMN, scientifically recognized for boosting NAD+ levels - a crucial coenzyme involved in cellular health and energy metabolism - works synergistically with Trans-Resveratrol. Together, they enhance your cognitive functions, akin to effortlessly solving complex brain games, and support graceful ageing, a testament to their combined anti-aging potential.

To put it simply, starting with Trans-Resveratrol lays a robust, scientifically-backed foundation for wellness. Adding NMN supercharges these benefits, promoting sustained vitality, enhanced cognition, and healthy ageing, all underpinned by cutting-edge scientific research. Together, they're your dependable partners championing a lifetime of optimal wellness and vitality. Step confidently into a vibrant, healthier future.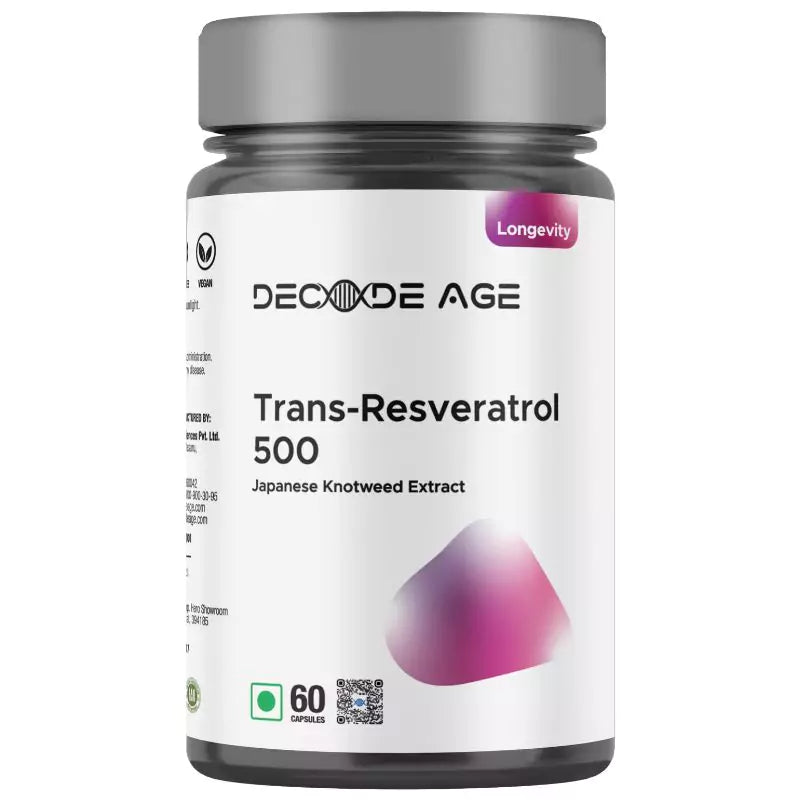 How does Sirtuins help you live longer?
Sirtuins, a family of seven proteins, are key players in promoting longevity. They operate in various cell locations - three in the mitochondria, three in the nucleus, and one in the cytoplasm, each with unique roles. They are like the supervisors of our cells, determining which processes need to occur to keep cells healthy and functioning efficiently. But sirtuins can't work alone - they rely on NAD+ to function. Think of NAD+ as their fuel. That's why supplements like NMN, Trans-Resveratrol, Quercetin, and Curcumin, known to boost NAD+ levels and sirtuin activity, can play a pivotal role in promoting health and longevity.
Benefits of Trans Resveratrol in Chronic Disease Management
Trans Resveratrol (trans-3,5,4'-Trihydroxystilbene), a potent antioxidant found naturally in grapes, Japanese Knotweed and some berries, has shown potential benefits in a wide array of health conditions and chronic diseases.
Resveratrol's role in cardiovascular health is one of its most well-studied benefits. This compound is a potent antioxidant and has anti-inflammatory properties. Inflammation and oxidative stress play key roles in heart disease development. By reducing inflammation and oxidative damage, resveratrol may help in heart disease prevention and management.
Research on resveratrol's potential anti-cancer effects is ongoing. Preliminary studies suggest it may inhibit the growth and spread of cancer cells.
The protective potential of resveratrol extends to brain health, particularly in relation to Alzheimer's disease. Resveratrol seems to guard against the neuronal damage and plaque accumulation that are characteristic of this neurodegenerative disorder. Again, while the initial findings are promising, more research is necessary.
Resveratrol has shown promise in the management of diabetes. It appears to enhance the body's sensitivity to insulin, helping to combat insulin resistance, a common precursor to type 2 diabetes. This improved insulin sensitivity could potentially aid in better blood sugar control.
Resveratrol's metabolic benefits may extend to weight management. Early research suggests that this compound might boost metabolism and reduce the formation of new fat cells, thereby aiding in weight control and obesity prevention.
Non-Alcoholic Fatty Liver Disease (NAFLD)

In terms of liver health, resveratrol may offer benefits to those with non-alcoholic fatty liver disease. Studies have shown that it could help reduce liver fat accumulation, a critical factor in NAFLD development and progression.
SIRT1 plays a role in bone health, and its activation by resveratrol might help in the management of osteoporosis. By promoting bone formation and reducing bone resorption, resveratrol could potentially contribute to maintaining bone density.
Chronic Inflammatory Diseases

This includes conditions like rheumatoid arthritis or inflammatory bowel disease. SIRT1 can suppress inflammation, and its activation by resveratrol might help reduce the chronic inflammation associated with these conditions.
Age-related macular degeneration (AMD)

Resveratrol's antioxidant properties could potentially protect against oxidative stress in the eye, which contributes to AMD.
Chronic Obstructive Pulmonary Disease (COPD)

Resveratrol's anti-inflammatory and antioxidant properties might help manage COPD symptoms by reducing inflammation and oxidative stress in the lungs.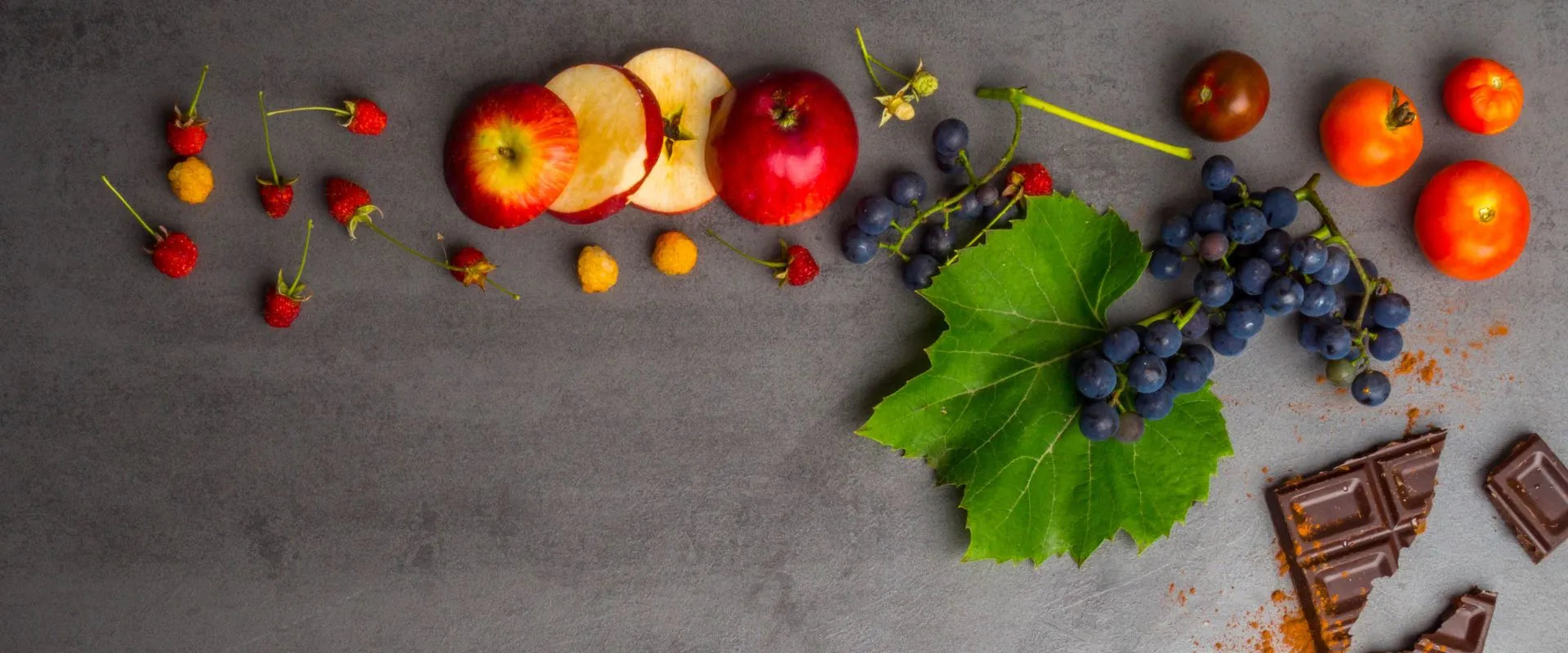 This product is rated 4.5 of 5.0 stars.
It has received 64 reviews.
What is trans resveratrol?

Trans-resveratrol is a natural compound found in certain foods, like red wine and Japanese Knotweed, renowned for its potent antioxidant properties and potential health benefits.
What are the health benefits of trans resveratrol?

Trans-resveratrol promotes several health benefits, including enhancing cardiovascular function, supporting brain health, balancing inflammatory response, delaying cellular ageing, and improving metabolic health.
How does trans resveratrol work in the body?

Trans-resveratrol works in the body by targeting and influencing various molecular pathways. Its antioxidant properties fight oxidative stress, and its potential to activate certain proteins, like sirtuins, can promote longevity and overall wellness.
Is trans resveratrol safe to consume?

Yes, trans-resveratrol is generally safe to consume within recommended dosages. However, it's advised to consult a healthcare professional if you're on medication or have an existing medical condition.
Is trans resveratrol suitable for vegetarians or vegans?

Yes, trans-resveratrol is typically derived from plant-based sources like grapes and Japanese Knotweed, making it suitable for vegetarians and vegans.
What is the recommended dosage for trans resveratrol?

The recommended dosage for trans-resveratrol varies, but generally falls between 250mg - 1500mg per day. Always follow the instructions provided on your supplement packaging.
Are there any potential side effects of trans resveratrol?

Side effects of trans-resveratrol are generally mild and may include digestive upset or headaches. Always start with a lower dosage and gradually increase, or consult your healthcare provider.
Can trans resveratrol help with anti-aging?

Yes, trans-resveratrol can support anti-aging due to its potential to activate sirtuins, proteins linked to longevity, and its antioxidative properties which combat oxidative stress.
Are there any specific conditions or medications that may interact with trans resveratrol?

Trans-resveratrol can potentially interact with certain medications, such as blood thinners and anti-inflammatory drugs. It's crucial to consult with a healthcare professional if you're on any medication.
Is trans resveratrol derived from natural sources?

Yes, trans-resveratrol is a naturally occurring compound found in foods like grapes, red wine, and Japanese Knotweed.
Is trans resveratrol suitable for pregnant or breastfeeding women?

Pregnant or breastfeeding women should consult a healthcare professional before starting any new supplements, including trans-resveratrol.
Can I take trans resveratrol if I have any pre-existing medical conditions?

Trans-resveratrol is generally safe for adults to consume. However, it's not recommended for children unless under the guidance of a healthcare professional.
How long does it take to see results from taking trans resveratrol?

The timeline for seeing results from taking trans-resveratrol can vary, but some individuals may notice improvements in energy and wellbeing within a few weeks.
Are there any scientific studies or research supporting the effectiveness of trans resveratrol?

Yes, several scientific studies support the health benefits of trans-resveratrol, including its antioxidative, anti-inflammatory, and cardioprotective properties.
Are there any specific storage instructions for trans resveratrol supplements?

Trans-resveratrol supplements should be stored in a cool, dry place out of direct sunlight. Always follow storage instructions on the product label.
Can trans resveratrol be used as a substitute for other medications or treatments?

Trans-resveratrol can be taken with a variety of other supplements due to its unique molecular properties, potential health benefits, and broad compatibility. Its potent antioxidant and anti-inflammatory effects make it an excellent partner for many dietary supplements.

✔ Nicotinamide Mononucleotide (NMN): Both NMN and trans-resveratrol stimulate the activity of sirtuins, proteins that contribute to cellular health and longevity. NMN serves as a direct precursor to NAD+, a critical coenzyme involved in cellular energy production. By increasing NAD+ levels, NMN supports cellular energy and promotes the repair of damaged DNA. The combination of trans-resveratrol and NMN can amplify these effects, potentially offering enhanced support for healthy ageing.

✔ Spermidine: This polyamine compound is known to induce autophagy, a cellular cleaning process that disposes of and recycles damaged components within cells. By combining trans-resveratrol, a potent antioxidant, with spermidine, you might amplify the cell-protective effects, potentially leading to improved cellular health and longevity.

✔ Quercetin: Like trans-resveratrol, quercetin is a flavonoid with strong antioxidant and anti-inflammatory properties. Combining these two can offer enhanced protection against oxidative stress and inflammation, factors that contribute to ageing and various chronic diseases.

✔ Vitamin C and Vitamin E: These vitamins are known for their antioxidant properties. When combined with trans-resveratrol, they can offer enhanced protection against oxidative stress, promoting overall cellular health.

✔ Omega-3 Fatty Acids: These fats are known to support cardiovascular health. Combined with trans-resveratrol, which has been shown to improve heart health by enhancing blood circulation and reducing oxidative stress, the duo can support heart health more effectively.

✔ Curcumin: This compound, found in turmeric, has potent anti-inflammatory properties. When taken with trans-resveratrol, it can offer an enhanced anti-inflammatory effect.

✔ Piperine: Found in black pepper, piperine can improve the bioavailability of trans-resveratrol, making it more effective.

Remember, everyone's body is different, and reactions to supplements can vary. Always consult with a healthcare provider before starting a new supplement regimen, especially if combining multiple supplements.
Our customer support is available Monday to Saturday: 10am-6pm.
Call us at +91 9009003095